"The Royal Crown Derby Porcelain Company is a privately owned Limited Company. The Company produces bone china tableware, giftware and collectables, for sale primarily in china and glass retailers and department stores, both in the UK and overseas.
The present factory was established in 1878 but the business traces its origins to the original factory which was set up in Nottingham Road in about 1750. Queen Victoria granted permission to include the title "Royal" in the company name in 1890.
Royal Crown Derby produces invitation cards to its 12,000 guild members for many of the new product launches and events held by both Royal Crown Derby and its customers. For many years the invitations were outsourced. As part of a cost reduction exercise and to add more flexibility in the production of the invitations, the printing of the invitation cards was brought in house.
---

MNT Call Centre
MNT now proudly performs inbound, outbound and customer service tasks for many well-known clients and respected brands in the UK and abroad. Its success is due in no small part to its system such as MOTS (Mail Order Taking System) that can process orders faster than any other business in the industry.MNT Limited is a privately owned company with 15 years of experience in the contact centre business. It began trading in June 2005 and has achieved double figure growth year on year since its formation. Its goal is to reduce the overheads of clients whilst improving their sales and levels of customer service.
We asked Managing Director Tony Roberts for an understanding of his thoughts before purchasing MiniFrame UK's Ecoware system. He said; "When we launched the business in June 2005 we started with second hand equipment and so were already buying PCs on a monthly basis in line with our replacement plans. However after reviewing the Ecoware information we arranged for an onsite demonstration the very next day, as we were preparing to accelerate our purchasing requirements to match our growth"
---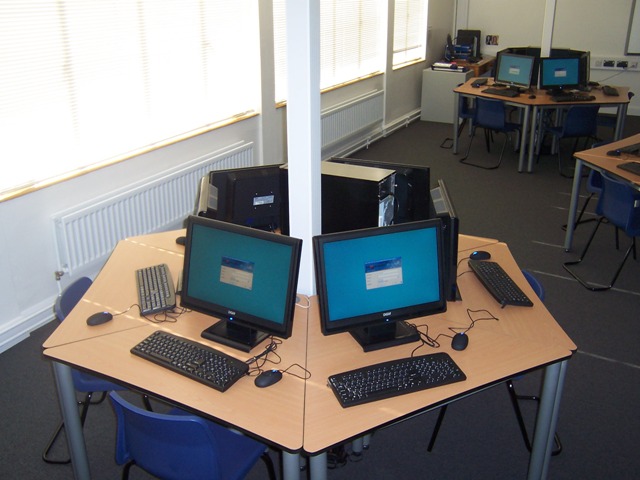 Oriel Specialist Mathematics and Computing College
Oriel Specialist Mathematics and Computing College is a forward thinking dynamic secondary learning establishment which benefits from a positive leadership team focused on delivering "Excellence in Learning" with an "Every Child Matters" attitude. It's a community minded establishment that stays active well into the evening (the site manager can often be seen locking up around 10 pm.)
Oriel's ICT Manager Mark Woolner takes up the story; "The challenge when I first started was reliability, I saw the all too familiar 25 – 30 beige boxes, crammed into every room, with a mismatch of CRT monitors, keyboards and mice. With each station pumping out around 1KW of heat, the cooling and heating systems were also suffering."
Prior to achieving specialist status the college had suffered with its ICT systems. According to Mark it has had to deal with a legacy of "mend and make do" which had resulted in poor quality PC's, a poor attitude towards maintenance, and heavy handed use by students. This legacy had left its mark and staff came to expect, "Do Not Use" and "Out Of Order" signs!
Please download any of our case studies below
Business Case Studies
Education Case Studies